Testimonials
Submit your testimonial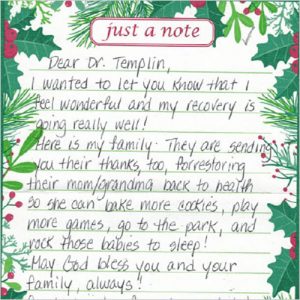 Dear Dr. Templin,
I wanted to let you know that I feel wonderful and my recovery is going really well! Here is a picture of my family – they are sending you their thanks, too, for restoring their mom/grandma back to health so she can bake more cookies, play more games, go to the park, and rock those babies to sleep! May God bless you and your family, always!
Elizabeth M.
---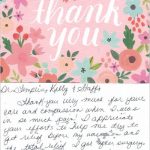 Dr. Templin, Kelly, and Staff,
Thank you very much for your care and compassion when I was in so much pain! I appreciate your efforts to try to get relief before my vacation and the total relief I got after surgery. I am feeling so much better and I can't thank you enough! God Bless All of You!!
Tiny W.
---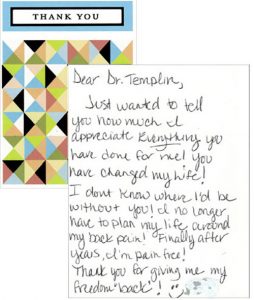 Dear Dr. Templin,
Just wanted to tell you how much I appreciate everything you have done for me! You have changed my life! I don't know where I'd be without you! I no longer have to plan my life around my back pain. Finally, after years, I'm pain free! Thank you for giving me my freedom back! 🙂
Thanks you so much, I will forever be grateful!
Nikki L.
---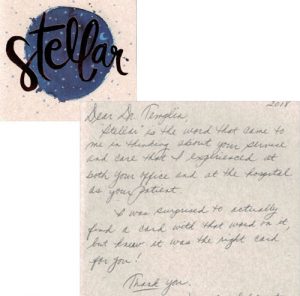 Dear Dr. Templin,
"Stellar" is the word that came to me in thinking about your service and care that I experienced at both your office and at the hospital as your patient. I was surprised to actually find a card with that word on it, but knew it was the right card for you!
Marylou D.
---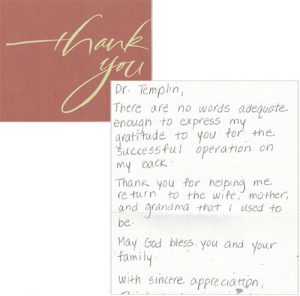 Dr. Templin,
There are no words adequate enough to express my gratitude to you for the successful operation on my back. Thank you for helping me return to the wife, mother, and grandma that I used to be. May God bless you and your family.
Elizabeth M.
---
Thank you for changing my life. I am forever grateful.
Carl M.
---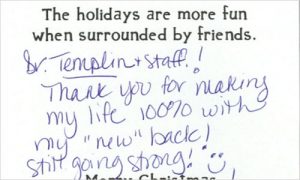 Dr. Templin & Staff,
Thank you for making my life 100% with my "new" back! Still going strong!
Nicole L.
---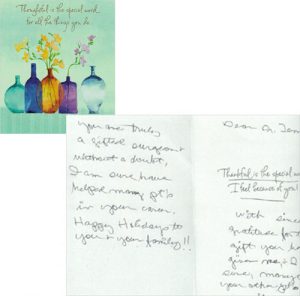 Dear Dr. Templin,
You are truly a gifted surgeon and without a doubt, I am sure have helped many patients in your career. With sincere gratitude for the gift you have given me.
Anita B.
---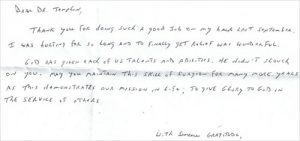 Dear Dr. Templin,
Thank you for doing such a good job on my back last September. I was hurting for so long and to finally get relief was wonderful. God has given each of us talents and abilities. He didn't slouch on you. May you maintain this skill of surgeon for many more years as this demonstrates our mission in life; to give glory to God in the service of others. With sincere gratitude.
Sue P.
---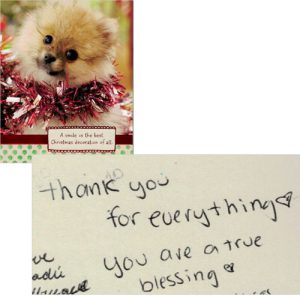 Thank you for everything. You are a true blessing.
Sadie H.
---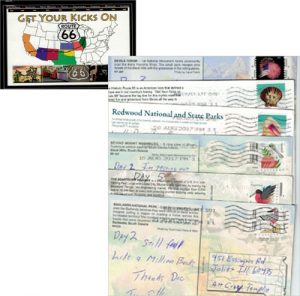 Patient's testimonial on bike road trip out west (postcards):
Postcard 1: I'm testing out your workmanship on my way to California. Things are holding up so far. Thanks so much Doc!
Postcard 2: Still feel like a million bucks.
Postcard 3: Me and my Harley are holding up just fine. Darn you do good work. Thanks so much.
Postcard 4: Hi Doc things are great! We are off to the Grand Canyon. Thanks so much.
Postcard 5: Well Doc I have run out of road. Looks like I will be heading back. Oh by the way, I told my UPS buddy, with you, he's got the best in the business for a doctor.
Tim S.
---
"How can I thank you? Not just for your professional skills but for the thought and concern you displayed while treating me."
---
Felt staff and Doctor cared about me the patient
Sally N.
---
It was one of the best Dr. Visits I have ever experienced.
Lois G.
---
Very professional and friendly people. My particular problem was examined in detail, and my questions were answered. I am very satisfied with the care I received from Dr. Templin.
Magdalena C.
---
I had a L3-4 Lateral Fusion done by Dr. Templin in December of 2015. Three and a half weeks after my surgery I returned to work full time! Prior to surgery, Dr. Templin ordered physical therapy and injections. He wanted to be certain that surgical intervention was the correct and best option for me. He showed compassion and concern for me before, during, and after my surgery. I am continuing to do very well and no longer experience back or leg pain! Dr. Templin is an extremely skilled surgeon. I am very thankful to Dr. Templin and his staff!
Liz D.
---
I was pleased with the professional manner of all the staff that I interfaced with.
David B.
---
Dr. Templin was very easy to talk to and listened to me. He actually spends time with the patient, not just a rush in and out type of Dr. I also like the fact that he is so personable.
Terra R.
---
Staff and Physicians I felt were very impressive
Brian V.
---
VERY ENJOYABLE DOCTOR AND STAFF ALLOWED US TO BE COMFORTABLE
Robert S.
---
I thought the office was very well run and efficient. The doctor was very pleasant and on time for the appointment.
Catherine R.